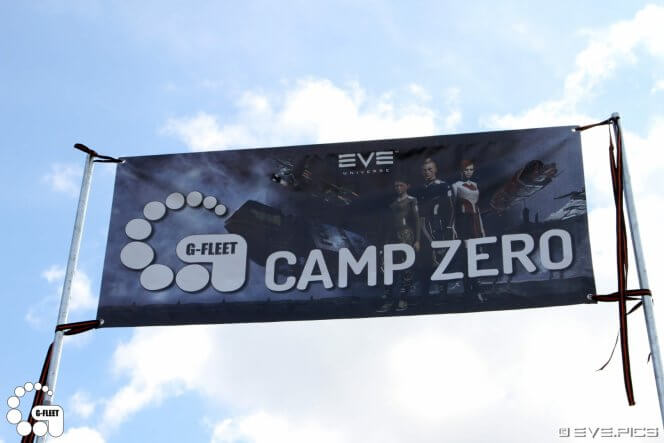 G-Fleet 2017
G-Fleet is an annual Eve Online player event, which is held in Germany. The location for G-Fleet 2017 was in Düsseldorf, at the Bar95. The event lasted two days, from 13 to 14 October. The event offered a PVP tournament, player and dev presentations, a cosplay workshop, pub games and many more. G-Fleet 2017 lured in more than 130 visitors.
Location and arrangement
Bar95 was a perfect place for the attending Eve Online players. The main room was used for the presentations and doubled as a party area for the pub games or to get some very good food. The ticket included several free drinks and 4 meals. It basically came down to the fact that the buffet table had food all day round, or at least that's how it felt to me. The meals varied from delicious sandwiches and cake to chili and even a bbq, with chef.
The drinks were also very special. The G-Fleet organisation arranged for a wide variety of beverages. These also included locally brew special edition Eve Online drinks. There was a red ale, a lager, a cola alt (cola mixed with beer), a non-alcoholic drink and the G-Fleet Quafe energy drink. All the drinks tasted very good, even the cola alt was surprisingly refreshing.
We were able to party until late, and the Eve themed beer-pong tables made for drunk and hilarious moments.
Presentations
The presentations were pretty diverse. There were some CCP presentations covering the upcoming Lifeblood expansion, as well as a presentation by CSM members.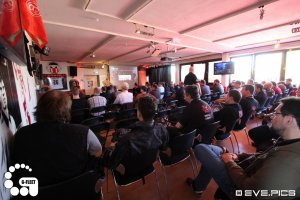 CCP Amino also gave a presentation about Team Trilambda, the CCP Tools Programmers. The insights he gave into his job as a tools programmer were very enlightening, especially for a programmer like myself. I think it's a good thing that he was able to shine some light on his day to day work, which is mostly 'not in the picture'.
The player presentations varied from the very interesting Project Discovery presentation, a presentation about German community fleets, how to craft your cosplay gear and some insights into null-sec politics. The player presentations were mostly in German, which were a bit harder to understand but it still worked out well.
My favourite presentations were the tools presentation by CCP Amino and the Project Discovery presentation by Attila Szantner.
PVP tournament
There was a tag-team frigate PVP tournament where G-Fleet attendees could compete against each other. The PVP room consisted of several high-end gaming pc's.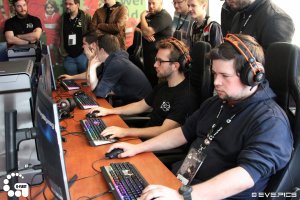 Every pc was hooked up so a sweet curved Samsung screen and the gaming chairs where very comfortable to sit in. The organisation spared no expense to provide a really cool and awesome game room.
The PVP tournament consisted of several rounds that took place during the two days the event was held. Four contenders would battle a 2v2 style match with frigates. Both teams had the opportunity to choose a race and to fit their frigates, before being launched into battle.
Projector screens in the main room and on the roof balcony made it possible to watch the fights during dinner. Eventually the winners took home some very nice trophies, as well as some serious ISK prizes.
Prize draw
There were also a lot of prizes the attendees could win. You recieved several tickets that had your registration number on it, and those ticket could be placed into clear plastic bags. The bags represented a number of prizes that could be won, so you had a certain type of control over how much chance you had of winning a specific item. The rest of the prizes were given away at random. The prizes included limited edition artwork, artbooks, and other accessoires like hats and flasks. The was also a lot of ISK distributed among the prize draw winners.
On a sad note, one of the main prizes was stolen on Friday night. The G-Fleet organizers were able to get a one-off G-Fleet 2017 sculpture. Somebody thought it would be funny to steal this item after all the pub games came to an end. If you have any information as to where this sculpture went, or if you know somebody that is now displaying this at home, please get in touch with the G-Fleet organizers via a[email protected].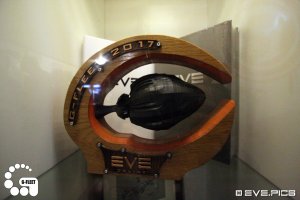 Cosplay at G-Fleet 2017
G-Fleet 2017 also featured a lot of cosplay opportunities. There was a cosplay workshop, with the experienced cosplay artist Cyehra, where attendees could create their very own cosplay pieces.
Several Eve players also 'dressed the part' and that made for a very cool and immersive atmosphere.
The cosplay presentation on Saturday by Cyehra also pointed out which materials you should use for the various object that you want to craft. It would have been nice to have seen more of her creations or some other form of digital material that would have strengtenth her presentation, but in the end the overall message was clear.
The future of G-Fleet
G-Fleet 2017 ended with the promise that G-Fleet 2018 is going to be the biggest German event ever. G-Fleet 2018 will be held in the Alte Münze in Berlin, a former currency and gold depot. There will be loads of space available for even more attendees. More info on this will become available on the G-Fleet website, g-fleet.de.
Just when everybody thought G-Fleet was over, Holger, one of the main event organisers, proposed to his girlfriend Anna. Her answer was a most definitive yes, and I wish both of them a very happy wedding and a brightfull future together!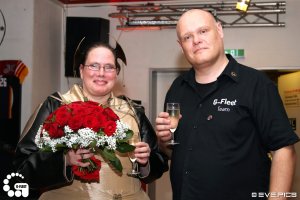 I really want to thank the G-Fleet organisers for putting together an amazing event, and for taking very good care of me. They also arranged a very nice hotel for me not so far from the venue, which was very much appreciated.
It will take some time until we can set foot at G-Fleet 2018, but until then we still have all these awesome pictures from G-Fleet 2017, enjoy!
Bewaren
Bewaren
Bewaren