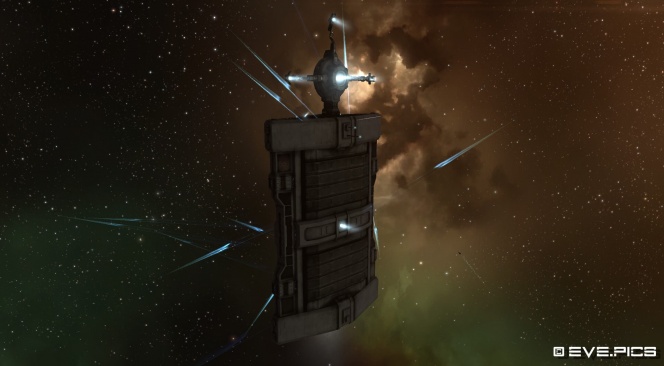 Defending Player Owned Customs Offices
This week our wardec with Public Enemy ended, which lasted for 2 months. The war started out as something normal, when they started reinforcing out Player Owned Customs Offices (POCO's). We launched a couple of POCO defence fleets and successfully repaired some of them, but after that Public Enemy came back and destroyed them anyway.
We put up a big effort, and we got beat, and that's not a bad thing. At the time we couldn't form a fleet big enough to counter a well set up Dominix tinker fleet.
But they didn't shoot all our POCO's. At some point they stopped engaging our assets, and while the wardec waged on, they didn't pay much attention to us. Sure we saw them in Jita, and all the other popular systems. Some of them chased me all the way to Amarr, but they still weren't actively hunting us anymore. This comes down to one thing, and I haven't really had that much trouble with it up until now.
The wardec mechanic in Eve Online is set up so that you pay ISK to start a wardec, and as long as you pay the extention price the wardec can last as long as you want it. This means that if you have enough ISK you could pretty much wardec an alliance continuously for years, potentially driving people out of the game. The wardec mechanic as it is now should be rebalanced. At the moment it is a potentially game-killing feature in Eve Online. Pilots in null-sec and low-sec won't be bothered that much by an official declaration of war. Because of the safety settings in those regions pilots can engage freely, so some pilots want to play Eve in the relative safety of high-sec. High-sec is pretty much a death-trap during any wardec, depending on which side you are, and so many players either start playing with different (out of alliance) characters, or won't play Eve at all. I hope CCP will address the concerns surrounding wardec mechanics in the nearby future.
Below are some screenshots of the two POCO defence fleets we organised, as well as the demise of the POCO's.