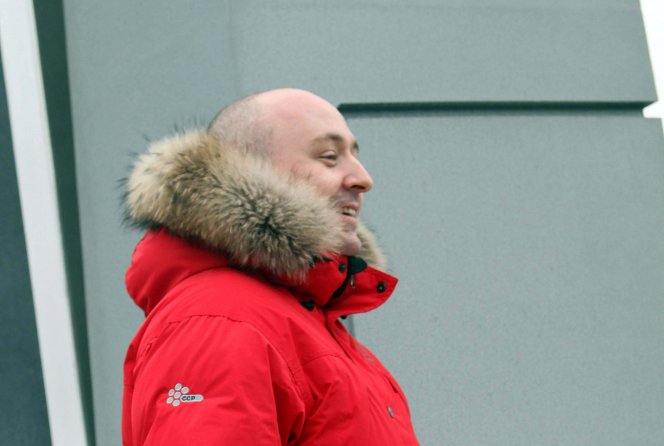 Interview with CCP Falcon, Part 1

Eve.pics was lucky enough to have the opportunity to get an interview with CCP Falcon!
I asked him numerous questions about himself and his work at CCP HQ. I also asked questions about Eve Online player meets and of course Eve Online.
This is part one of a series of 3 articles about CPP Falcon!
Who is CCP Falcon?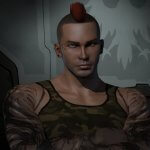 CCP Falcon, in real life better known as Paul Elsy, is 34 years old and works at CCP Games Headquarters in Reykjavik.
Originally from Durham, England, he is the Senior Community Manager at CCP Games. He is a game enthusiast at heart with a fondness for space pixels. Paul has played Eve Online religiously since release and was even involved in beta a little.
Besides Eve Online he also has other ways to unwind in his spare time.
"I'm a huge motorsports fan, so I play a lot of racing games. Probably the most visible of this genre right now is Gran Turismo Sport (love the whole franchise – I've actually been racing with a few EVE players recently). Being a big F1 fan means that I own all the F1 franchise games too, I play them regularly. I also play a lot of Ace Combat (loving Ace Combat 7 right now). I'm a really big fan of RocketLeague too, (although I'm still failing to get higher than Gold in Ranked).
I'm a huge fan of survival horror, Resident Evil (loving the RE2 remake at present), Silent Hill, Dead Island are all favourites too. I've also recently gotten into playing Ghost Recon Wildlands, which is fantastic. I'm also waiting with bated breath for Days Gone, the gameplay footage I've seen so far is incredible and I can't wait to play it.
Then I have my other pleasure – Heroes of the Storm. I'm usually not a real fan of MOBA games, but I love Heroes because it focuses more on team-based play and rewards and I love the huge range of cosmetics that Blizzard have built for it. It's super cool how they've managed to mash all their IPs together and create something super awesome out of it."
His work for CCP Games
Paul has been active as 'CCP Falcon' since October 2012. He was initially going to move over to work for CCP in 2006, but personal circumstances put that on hold. 2012 felt like the right time, and he changed career paths as he was tired of what he was doing at the time. His developer name came from three sources.
"One was obviously the Milenium Falcon, which is the best. Two, actually a book written in 1988 about a guy that can fly spaceships with the power of thought. And the third is I love to grief the shit out of people that fly the Falcon cruiser. It was just a perfect fit."
Right know he is "Senior Community Manager", or how he likes to call it "Senior Meatshield", and is lucky to have a variety of projects to work on.
"I don't really have a typical day at work, so I struggle to answer this question really. Some days are the straight forward community manager style stuff – preparing sentiment reports, publishing news, patch notes and dev blogs, talking to players, facilitating player projects.
Other days are dealing with emergency stuff like unscheduled downtime, exploit notifications, all kinds of things. Then there are more intensive parts of the year that focus around managing and organizing the schedules and content for major events like EVE Fanfest and EVE Vegas and flying all over the place to take care of player gatherings. It's a mixed bag, but life is always full of new challenges."
Ups and downs at CCP
We all have those challenging days at work where you're happy when you're at home again on the couch. On the other hand, a lot of jobs are also pretty rewarding in the experience you gain along the way.
I asked Paul what he thought was his biggest achievement, and his biggest 'Oops!' moment at CCP Games.
"That's a hell of a question, because there's been so much good stuff that's come out of the seven years or so I've been here. Being able to get on stage in front of more than a thousand people in a live audience and speak feels like a big achievement – it's not an easy thing to do, especially when there's five times that number watching you on a live stream too. I used to get really nervous about this, but now it feels pretty natural.
Probably the thing I'm most proud of though is being published and getting to work on IP development. It's a huge passion for me and I'd love to do more of it, so arriving at CCP in October of 2012 and being approached by CCP's writers when I'd been with the company for less than a week with requests to write backstory was incredibly flattering.
Co-writing EVE Source alongside the original writers of EVE's core backstory, Hjalti Danielsson (CCP Abraxas) and Gauti Friðriksson (CCP Gnauton) was a dream come true and a huge honor, but also super intimidating too. I learned so much from the two of them over the years. Then being able to branch out and write EVE Universe: The Art Of New Eden and Frigates of EVE Online: The Cutaways was amazing. Working on the EVE: Valkyrie and EVE: True Stories comic books with Dark Horse and our former Creative Director Torfi Frans was fantastic too.
I'll always be thankful to Torfi Frans and CCP for letting me put pen to paper and help the EVE Universe come to life."
"It was a real learning experience for me, and a real eye-opener."
"I don't live life having regrets, it's just not something I believe in. I think probably the biggest facepalm moment that I've had was born purely out of inexperience with free to play gaming and underestimating just how much alpha accounts were in use by our players.
We got a significant reality check on this when we issued the first two CONCORD hulls (the Pacifier and Enforcer) as Fanfest ticket purchase rewards for Fanfest 2017.
We planned to run a script on Tranquility during downtime to deliver the ships. The process was that we took a list of email addresses from Eventbrite and ran the script against the TQ database to identify player accounts that needed to be issued with the ships.
The issue was of course that I'd specified "one of each hull to each account associated with each email address on the list." Of course, I was very dumb when I made this request and only realized when the "aw shit" moment came when myself and the database administrator who ran the script looked at the results and saw the number of ships that had been issued.
In the end we decided to let the mistake go, given that this is how we'd advertised the hull as a reward, but we then changed up the issue of the Marshal to make sure that it was distributed properly.
While not really damaging to the economy, it was a real learning experience for me, and a real eye-opener to how the dynamics of handing out rewards differ between a game with a pure subscription model, versus a game that's free to play.
Hindsight is 20:20 and all that!"
The many faces of CCP Falcon
Paul has a pretty diverse collection of projects that he's worked on during his time with CCP. I asked him what he thought was his biggest project at CCP up untill now.
"Damn, that's another difficult question. I think EVE is a monstrous project, it's incredible to see how many people are working on it and just how big the scope is for things that we're doing right now and are planning for New Eden in the future.
I can't really pick a single project to be honest, as it all rolls into the awesomeness that is EVE. Frigates of EVE was a pretty massive project, it took the artist and I fourteen months (and much assistance from Torfi Frans) to get it completed with many long nights of writing in the dark Icelandic winters. Then there's organizing and running the Battle of Caldari Prime, which was monumental too… then there's creating and running the program for Fanfest 2016, 2017, 2018… and EVE Vegas for those years too. Yeah, it's way too hard to choose.
I just love the EVE Universe and try to pour as much effort as I possibly can into supporting and growing it, and helping our community continue to thrive."
Writing 'The Frigates of Eve'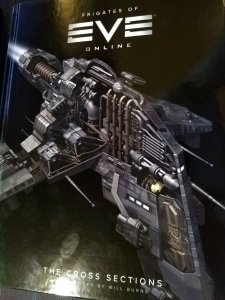 I'm not the biggest fan of reading, but I'm thrilled to say I own a hardcopy of The Frigates of Eve book. I have it signed by Charles White (co-writer) and Paul Elsy and I'm absolutely a proud owner. For Paul, writing his first big issue book was a big deal!
"Frigates of EVE Online is one of the things I'm most proud of from my time at CCP.
I'm not ashamed to say that when I saw boxes of the limited edition arrive at CCP and I saw the Dark Horse sticker on the side that had "Author: Paul Elsy" on them I choked up a little and had to take a couple of moments to take a breath and compose myself before I cracked the first one open.
It was a huge project, and I thoroughly enjoyed working with Will Burns, the incredibly skilled artist who put all the cutaways together for us. It took us around 14 months and ended up taking a lot of extra hours and long nights, but I absolutely love how it turned out, and I've been very direct with CCP about the fact that I'd love to publish more."
But wait, there's more!
Stay tuned for more articles about CCP Falcon! Article number two will be about CCP Falcon's experiences at Eve Online player meets and his role in the Eve World Tour 2019!